Tourism Growth and Development in Uganda
Uganda's tourism is based on wildlife as its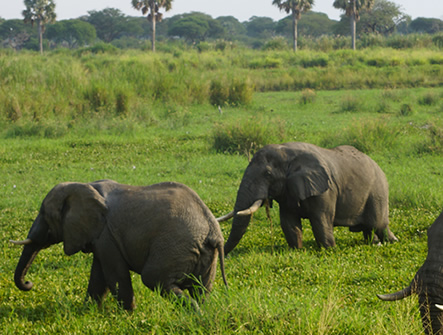 major foreign exchange earner and source of employment used to fight poverty.  The country's tourism is categorized in three ways such as; adventure tourism, ecotourism and cultural tourism. However, the tourist industry in the early 1970s was affected by political instability but today has boosted with Uganda's stable political climate. Uganda's tourism industry is based on promoting the endangered mountain gorillas safaris which take place in the tropical forests Bwindi Impenetrable National Park because its harbors approximately half of the world's population of mountain gorillas.
Tour companies like Africa Adventure Safaris an online based company, employs people directly as drivers, guides, secretaries, accountants etc and organizes tours and safaris around Uganda and East Africa at large.

Most visited tourist attractions in Uganda include national or traditional sites, game parks, game reserves, natural tropical forests namely; Murchison Falls National Park, Queen Elizabeth National Park, Kidepo Valley National Park , Lake Mburo National Park, Rwenzori Mountains National Park , Bwindi Impenetrable National Park, Mgahinga Gorilla National Park, Semliki National Park, Kibale National Park, Mount Elgon National Park. The government and the private sector have increased investment in tourism predominantly in travel, accommodation and related facilities thus improving tourists' experience in the country.

Uganda has a very diverse culture, landscape, flora, and fauna and gives a chance for so many tourist activities such as Game and bird viewing.  Wild animals like lions, buffaloes, giraffes, antelopes, elephants are common in the country's national parks.
Today, mountain gorillas are Uganda's key tourist attraction. Gorilla tourism started when the first group of tourists was able to tour gorillas Uganda Bwindi forest in 1993. Uganda Wildlife Authority has been able to habituate a number of gorilla families for the purpose of promoting gorilla tourism in Uganda. Commonly trekked gorilla groups in Bwindi Impenetrable national Park include;  Mubare gorilla family located in Buhoma region of the forest, habinyanja gorillas, rushegura group, bitukura gorillas, oruzogo gorilla family, kyaguriro gorilla group, nzongi, kahungye, bweza, busingye and nkuringo gorilla families among others. However, with the development of gorilla tourism and the habituation of gorillas by humans is proceeding very careful because of the dangers to gorillas, such as contracting human diseases.

Queen Elizabeth National Park is commonly known for tree climbing lions in Ishasha the Southern sector of the park. Lions do not normally climb trees but for these reasons they intentionally climb trees to rest on them in the afternoon especially when the sun is high or when chased by another lion group or wild buffalos. This makes it a unique phenomenon.

Uganda is also gifted with a variety of water bodies that give trendy spots for tourism like white water rafting and and kayaking are popular activities on the rapids near the source of the Nile at Jinja. Boating is commonly done on Lake Victoria, Kazinga Channel, Lake Mburo, Canoeing done at Lake Bunyonyi, a wide variety of bird species that inhabit the banks of these water bodies, mountain climbing, hiking and nature walks on Rwenzori Mountains, which are found at the border with the DRC River Nile.

Uganda as a country is still facing some challenges which have greatly affected tourism industry and these challenges include; poor roads that lead to National parks, insufficient funds allocated to the tourism industry by the government, poor service delivery and high competition from neighboring countries like Rwanda, Kenya and Tanzania.