Welcome To Uganda Hotels Guide
Apoka Safari Lodge - Kidepo Valley National Park - Uganda
Apoka Safari Lodge  located at the rim of  Narus River Valley, whose permanent water supply is a strong magnet  large herds of buffaloes and elephants including also smaller mammals such as zebras, Jackson's hartebeests and Rothschild's giraffes.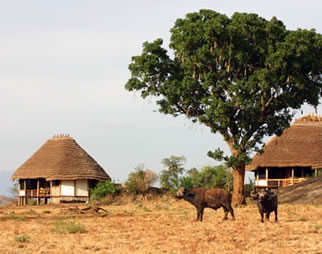 Apoka's ten huge thatched bandas, set on stilts and walled off from bug life by canvas and sheer metal screens, possess open-air verandas with daybeds and private outdoor rock tubs filled each night with hot water and supported by candle lanterns. A romantic infinity pool is set into a natural granite basin (the lodge staff gently warns dozing guests when elephants approach for a sip). Private niches include the observation tower that provides a breezy perch from where you can explore the rolling foothills, yellow savanna, meandering River, and distant mountain backdrop.

Apoka Safari Lodge is listed in the launch issue of Canada's La Vie de Luxe magazine: "True luxury is about experience – having the opportunity to explore the world's chicest hideaways…our team of writers have scoured the globe to bring you just that: the top 50 places in the world to stay, from grand yachts to urban oases to glamorous trains…"
"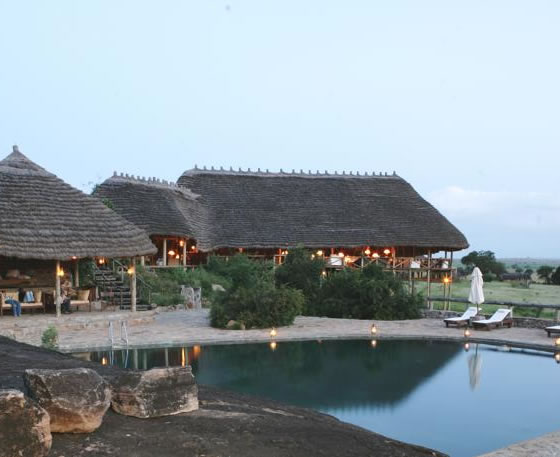 From the vantage point of your private veranda, off your wood, thatch and canvas "cottage room', – one of Apoka's ten, perched atop large rocky outcrops – soak up the gorgeous savannah panorama of remote Kidepo Valley National Park, one of  the most beautiful – and underrated – destinations in East Africa.  The encounter with a parade of giraffe, zebras, buffaloes, elephant, antelope,  and over 200 bird species including ostriches ranks Kidepo national park one of the greatest wildlife conservation parks in Africa.
The interiors and amenities of Apoka complement the natural landscape outside – cream and chocolate carpets, plush white towels, Egyptian cotton bed linens, outdoor bathtubs carved out of the rock face. Join the other guests as they track game with well-trained guides along sandy riverbeds. Then retreat to your luxurious, blissfully isolated room underneath the stars, as lions roar in the distance."
"When you close your eyes and think of Africa, the landscape you imagine – the jagged hills, the golden grasses, the plains dotted with wildlife, the soft glowing light – is likely to be Kidepo. This is Uganda's most remote park, far away from city life."
All the above quotations describe the beauty of that remote but fantastic lodge in Uganda.
Terrain
Kidepo is a semi-desert to many travelers. Expansive grassy plains are dotted with big rocky outcrops and flanked by steep jagged mountains. In the distant north, perfect triangular conical mountains protrude out of Sudanese soil; to the east is the sudden drop of the Great Albertine Rift – overlooking Kenya's Turkana country.  Dry river beds meander across the park, covered with sausage and borassus trees.  Some forest tracts also feature in Kidepo national park.
Wildlife
Kidepo national park harbors abundant wildlife with predators including Lions, cheetah, leopard, jackals, etc. Angulates include giraffe, zebra (it is only Kidepo in Uganda where giraffe and zebra are found together), possibly Africa's largest herds of buffalo, elephants, hartebeest, waterbuck, bushbuck, warthog, etc….  At Apoka Lodge one has all the chances of seeing all this mammals from privacy of your veranda or your outdoor bathtub, but the best way to see the wildlife is up close, on foot.
Facilities
All the Apoka rooms are spacious and indeed very comfortable displaying everything handmade by local craftsmen. 10 expansive rooms with natural canvas walls surround a rocky kopje with endless views over the savannah plains.  The inside sitting rooms and private verandas are comfortable places for relaxation, reading and writing letters.  Big hand-hewn beds with soft duvets are draped with mosquito nets, hand-woven woolen carpets, extra large plush towels; oversized dressing gowns…a perfect lodge for honeymooners, the only sound are cries of joy from the contented wild beasts!
Each room contains an en suite bathroom with double sink and large tropical shower with hot water heated by solar power.  Electric lights and power points are all over the place. The lodge has a fantastic swimming Pool, dining room and plenty of lounge space
Activities
Guided walks
Game Drives
Birdwatching
local Karamajong community walk
Spotlit night drives
Getting to Apoka Lodge
Apoka is situated in the heart of Kidepo Valley National Park, tucked in the North-Eastern corner of Uganda, Sudan and Kenya. It is approximately a 9 hours drive from Kampala. More conveniently many guests fly to Apoka a private plane or using the lodge's plane.

Uganda Safaris and Tours
Top Uganda Safari Lodges