Welcome To Uganda Hotels Guide
Kitandala Hippo Hill camp Uganda
Hippo Hill camp is well known to be a lavish camp located within the heart of Queen Elizabeth National Park in western Uganda.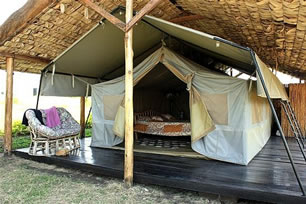 The camp was constructed on the hill providing a fantastic view of Kitako and Kabazimu Islands, surrounded with large concentrations of Hippos, buffaloes, Flamingos and other wildlife.
Accommodation at Kitandala Hippo Hill Camp
There are 10 luxury tents with private toilets and hot showers.

A spacious dinning that offers excellent standards of cuisine.

All tents are well furnished to ensure maximum comfort.

The accommodation is well set with about ten lavishness tents with personal ensuite facilities such as bathrooms and toilets.

The tents are well designed to provide comfort and a peaceful setting to enjoy the night.

Guest Facilities at Hippo Hill Camp
- A well stocked bar with a perfect view of Lake Albert
- Dining area with both international and local cuisines
- Camp fire that is must liked by all visitors.
Uganda Safaris and Tours
Top Uganda Safari Lodges